Do you remember what it felt like as a child, sitting in the family car, being driven to somewhere amazing and every minute seemed like an hour and every mile a circumnavigation of the globe?
And how you sent your parents crazy by asking, "When are we going to be there?" as if the question could magically teleport you all?
That's what it was like for me sitting on a Naked Bus from Auckland to Tongariro NP.
I just couldn't arrive soon enough.
The view from the window as we rounded the inland sea of Lake Taupo only made me more impatient.
This the land of ice and fire.
Snow-capped and smoking volcanoes, blasted lunar landscapes, red and white mineral-soaked rivers and dangerously erratic local weather systems make Tongariro a tramper's paradise.
However, I'm not a child anymore but a middle-aged chap.
So, we can't blame the weary DOC staffer in the Whakapapa Village for taking an alarmed step back from the counter when this over-wrought and over-excited tramper with a manic gleam in his eyes dropped a brand new backpack and a paint-spattered trekking staff (formerly used to hold a house-paint roller) at his feet and demanded briskly, "Right! I've got five days. Where do I start?"
Nor can we blame him for narrowing his eyes and taking a long, hard, skeptical, top to bottom appraisal that all but said, "I can't wait to to tell the wife about this one. Over a beer. Or, better yet, two."
However, he sold me a map and I repaired to a patch of grass to brew a coffee and make a plan in the glow of the late afternoon sun.
And soon after rinsing out mug and pot in a crystal clear stream, I stepped into a stunted alpine beech forest, once again whistling "The Victory March" from Aida.
I had a two and a half walk to the first hut of my travels. Filled with pent-up energy, joy at being in mountains again and delight in my new shoes and backpack, I fairly frolicked along the trail, with Mt Ruapeho leaning over my left shoulder.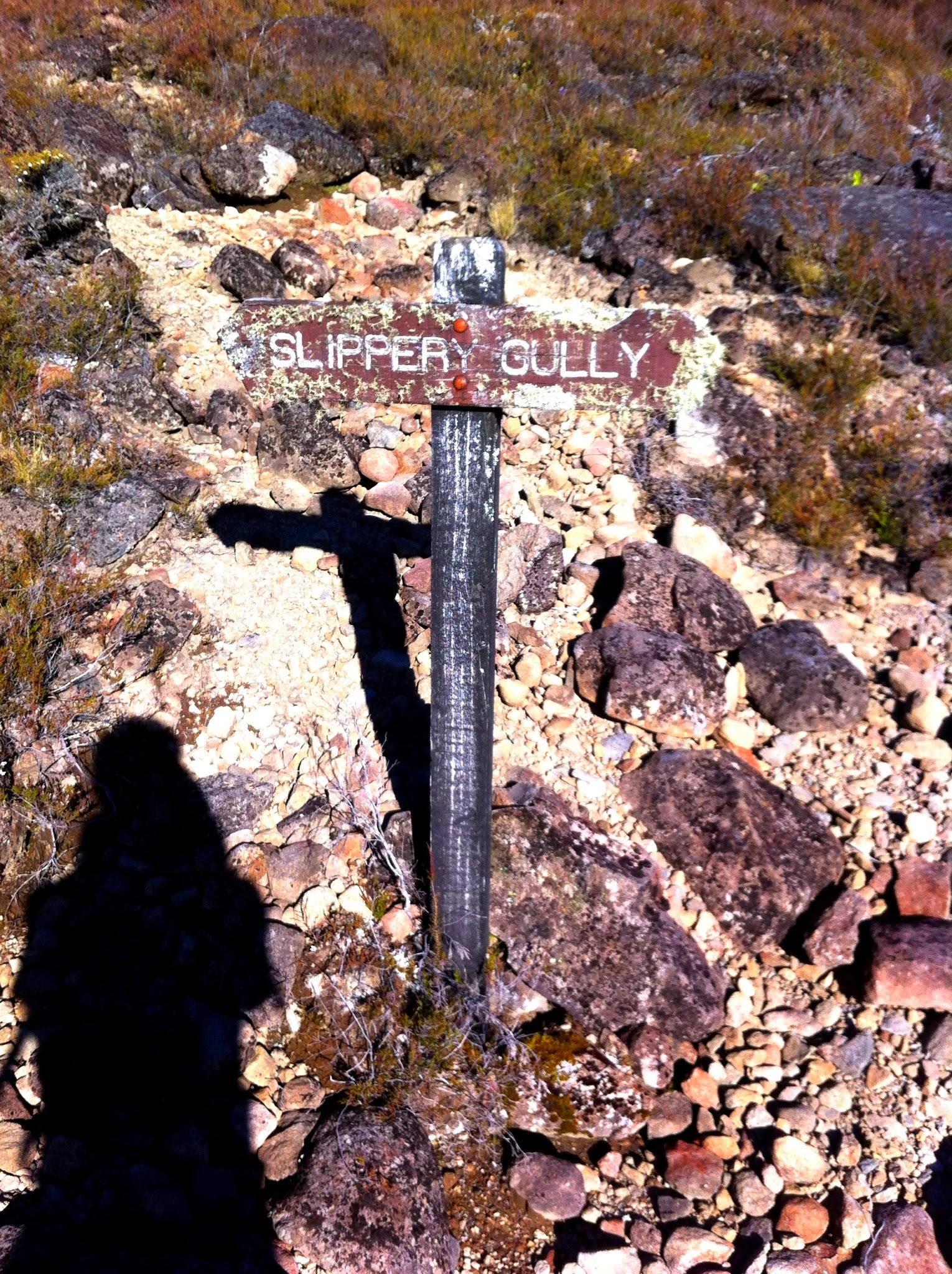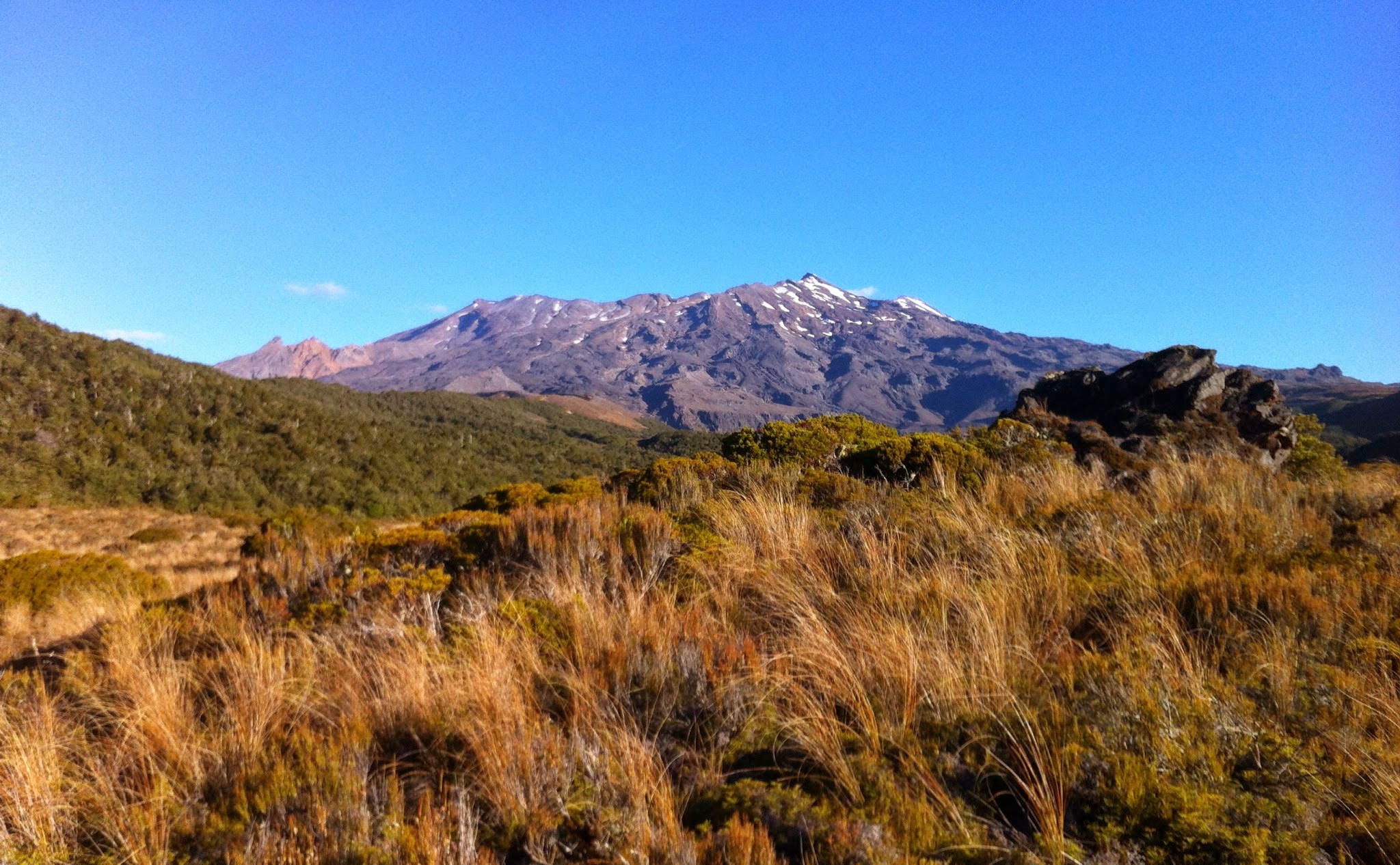 Over the next four days, I intended to tiptoe right around this slumbering giant.
Arriving at the hut just before nightfall, I saw candlelight glowing in the windows and two pairs of boots outside.
Inside the rustic wood-panelled room, lined on two sides with bunks and on a third with a sink and cooking counter, I met two ladies of about my vintage, best friends at the tail-end of a jaunt from Auckland.
Within minutes, we knew all about each other.
We cooked together on our little stoves, swapped recipes, tried each other's food, told stories and explored common ground.
It was just delightful. I'd heard about the companionship of hut life and now I experienced it.
The healthy yawns of a day spent walking brought the evening to a close.
Tactfully, they pointed me to a tiny room off the main one. I laid down one of the four mattresses, wriggled into my "onesies" and with a final sigh of happiness, fell asleep to the muted murmur of friends having a last chin-wag next door and a stream rushing from the snow fields above on its long journey to the sea.
Returning home.
As I will return also.
To my beloved.