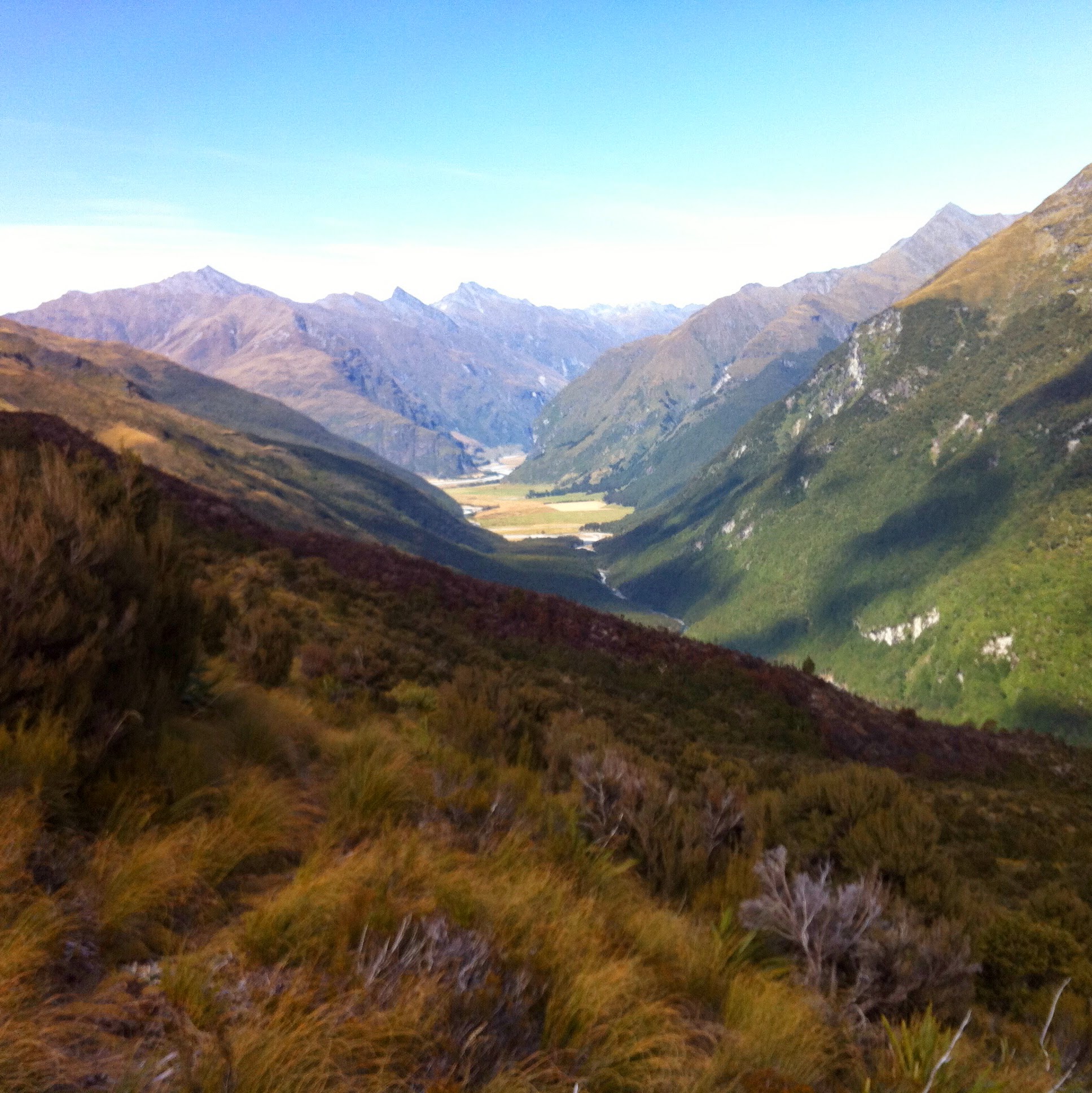 The first cold and heavy raindrops pockmarking the dusty gravel road and a warning mutter of thunder from the lowering clouds sealed the deal for me. All day, I had pondered how to vary my original plan. The truth was, I had bitten off more than I could comfortably chew. I had been walking in wilderness for five days and wanted to rest for a day or two but didn't have the food to do it.
A signpost spelled out my choices: to the left, Wanaka, over an hour's slow drive south. To the right, Mt Aspiring Hut, a 2.5 hour walk northwards, and gateway to the third of four major passes I needed to climb. With the rain splattering on my waterproofs, I tuned inward and allowed intuition to take over. I turned northward into the gathering gloom.
"Keep at it, Major," I said, urging my tired legs and wet feet onward over the sharp gravel while temporising, "If the first car heading to Wanaka stops to give me a lift, I'll take it!"
Not that I expected one to appear so late in the day. Nonetheless, headlights appeared, weaving slowly down the rough road. A camper van! I stuck out my thumb. It stopped and the window rolled down.
"We can't take you," the woman said in a French accent. My face fell and she smiled. "But our friends will! They're just behind us!"
When I had left Wanaka a week ago, the town had been more or less empty with plenty of "Vacancy" signs in the windows of its motels and hostels. Now the park held marquees and a fun fair and the town was packed with Kiwis at play. Happy adults clutching overflowing drinks spilled onto the streets from pub doors, excited children roamed in packs and muscular athletes in fluorescent cycling gear hovered around ranks of mountain bikes.
I raced to the motor camp and snagged the last remaining tent site. I asked the glowing receptionist what the excitement was all about. "The South Island Agricultural Show plus the Motatapu Mountain Bike Race," she replied breathlessly. Beaming at the thought of so much long-awaited entertainment, she turned away to register a long convoy of motorhomes waiting at the gate.
After setting up my tarp beneath a fruit tree, I showered, ate and slid beneath it into the familiar comfort of my "onesies". Nothing, not the sound of berries pattering down a few inches above my face, nor the raucous laughter of gumboot-shod Kiwi farming families barbecuing steaks, nor the cries of children moving from excitement to over-tiredness could keep me awake. After a damp and chilly dawn way back on Ruth Flat, I had walked down a flowing river bed, climbed high up the flank of a mountain to avoid an impassable gorge and along a riverside trail until I crossed another river, the West Branch of the Matukituki. Tired beyond tired, I lapsed into a coma.
Shatteringly, a donkey's bray paralysed my ear drums. On cue, all hell broke loose. Horses whinnied, cows bellowed, rooster crowed and sheep bleated. "Christ! I've been teleported to Old McDonald's farm!" I thought wildly, sitting bolt upright on my skinny mattress. A brief exploration in my "onesies" revealed not only that I had slept through the night but that I had unwittingly set up my tarp just a hedgerow away from the show ground's animal pens.
By mid-morning, the clouds lifted, light sparkled on wet grass, the show grounds heaved with people and animals, the bicyclists set off in a wheeled tide to cheers. After shopping for supplies, I absorbed the holiday spirit and watched South Island Kiwis at play.
I called Rosa and let her know what I was doing.
"What's the show like?" she asked.
"Incredibly sweet," I told her. "It's everything a proper country fair should be."
She laughed about my dawn alarm call next to the stockyard. "Oh! I wish I'd been with you!" she cried.
"I know. You'd be milking every last ounce of enjoyment from the weekend," I smiled, imagining her leaning over a fence to watch the bulls from a safe distance. Of course, she'd dress up in gumboots and an anorak to fit in. At times like this, I miss my playful Kiwi wife so much it hurts.