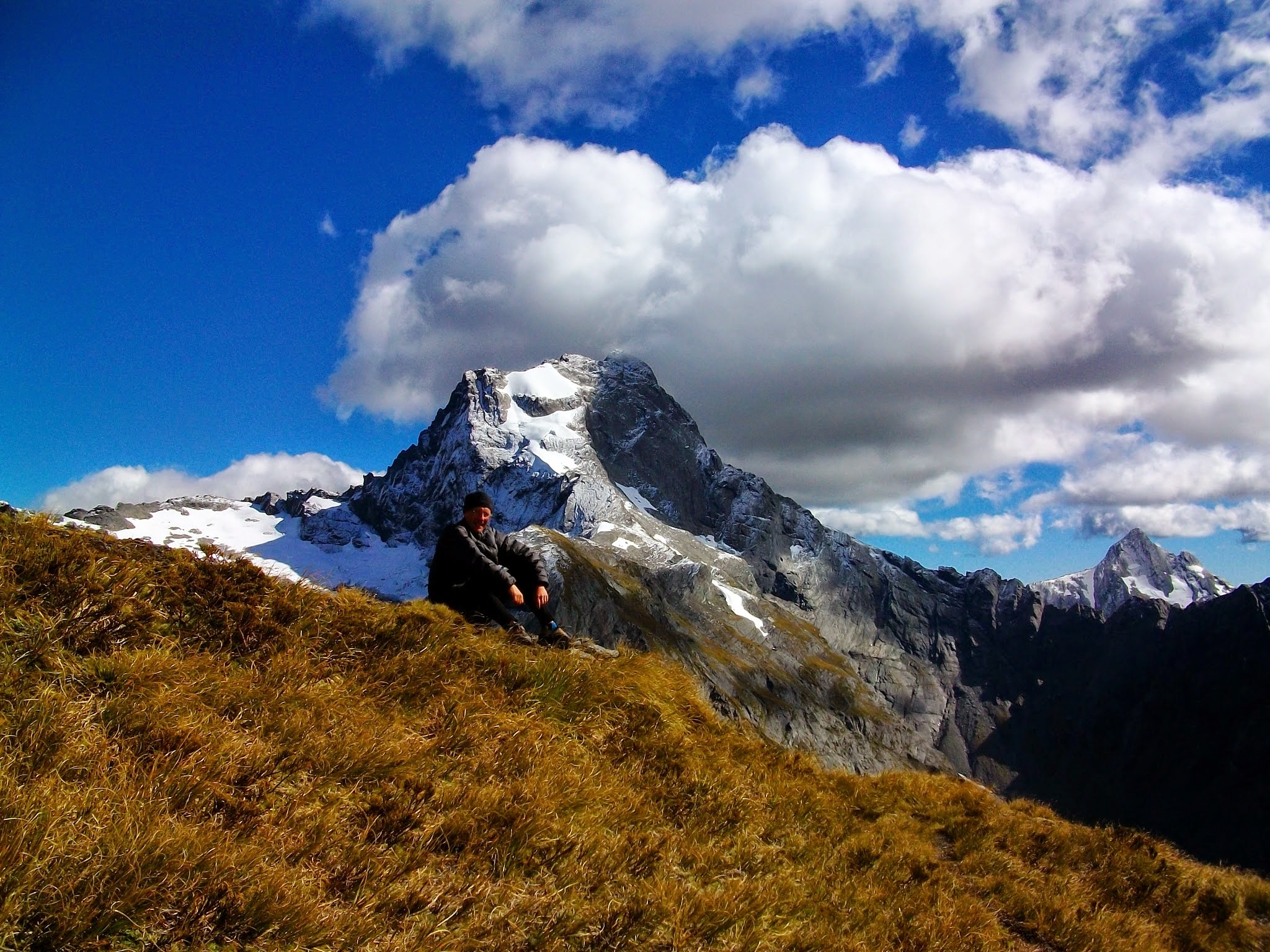 Tramping is not all sweetness and light. It has a dark side too.
For most of the day, a dark shadow had prowled at the edge of my mind like a hyena slinking around the glow of a campfire.
I did my best to push it back and focus on the simple pleasures of walking through this wild landscape under clearing skies. Elat, the Israeli "racing snake" had left the Young Hut at dawn and Akira, the young Japanese hiker had departed soon after. I had been third in line.
Many trampers enter wild areas looking for solitude. It's an unspoken rule that we give each other space and often make loose arrangements to depart in sequence. At the same time, more experienced trampers keep an eye out for the less confident ones. When I came across Akira hesitantly contemplating the majestic waterfall-ribbed cirque girdled by Mt Awful's snow-capped flanks, I invited him to join me for the steep climb up and over the Gillespie Pass.
At the summit, I showed him how to shelter from the freezing wind while we took photographs. After descending, I guided him to the camping spot my stepson and I had used the year before. There we ate lunch in the warm sunshine. I'm deeply interested in Japanese culture and their reverence for the natural world expressed through Shintoism. Despite the language barrier, we had a good connection. After a short but restorative nap, we continued our descent through sun-dappled beech forests to the wide grasslands of the Siberia Valley and the glittering sapphire pools of the stream flowing through it.
However, Mt Awful rising behind me and Mt Dreadful looming in front reminded me why a dispirited 19th Century Pakeha explorer suffering severe privations in these high valleys had projected his experiences on them. The day after tomorrow, I would be facing both Waterfall Flat and Rabbit Pass alone. Frankly, the prospect scared me witless and everything I had researched about this passage standing between the Wilkin River and the East Branch of the Matukituki River added to my anxiety.
Siberia Hut diverted me for an hour for afternoon tea. Akira would spend the night there. It's becoming an increasingly popular hut with a permanent summer warden, clean toilets and solar-powered lighting. There's even a mountain radio to book a seat on a jet boat or aircraft if you just want to spend a day or several enjoying short walks without the effort of humping a large pack upriver. One of these walks leads to Lake Crucible. Valentino and I had walked to it last year and finding it still filled with ice from overhanging Mt Alba, we had dared each to become polar bears.
I made some notes and mentally flagged the hut as an ideal place to introduce future clients to nature's therapy room. Then I shouldered my pack and continued down the valley towards the Wilkin River. Beyond its broad but relatively shallow waters lay Kerin Forks Hut, my destination for the night. Perhaps I was more tired than I thought, or maybe the growing sense of foreboding had weakened my confidence, or it could have been disappointment at finding the hut crowded but I found myself on edge. As the last arrival, I would be sleeping on the floor.
That night, lying on my skinny mattress and listening to quadrophonic snores, the shadow rose again. This time I could not hold it back. My stomach churned with anxiety as I imagined myself trapped on the high ground between Waterfall Flat and Rabbit Pass in driving rain, unable to advance or retreat, my way barred by wet snow-grass, slippery and treacherous as ice. Two years ago, a British tramper had been found in his sleeping bag a month after he had gone missing. He had survived a 50 metre fall but not the exposure that followed. The image gripped me in black claws.
I forced my tired brain to loosen the cold grasp of fear. "This isn't a life or death mission. You can always turn back if you have to," I consoled myself. Then I chuckled at another thought. "I'd like to see Anthony Robbins awaken the giant within when he's stuck half-way up Waterfall Flat." In my mind's eye, I shout encouragement, "Keep going, Tony, mate! You can do it!"
He can't respond because he's gripping a clump of snow-grass between his perfect white Californian teeth.
The dark shadow recedes. I've shone a spotlight on my fears and they've shown themselves to be the illusion they really are.