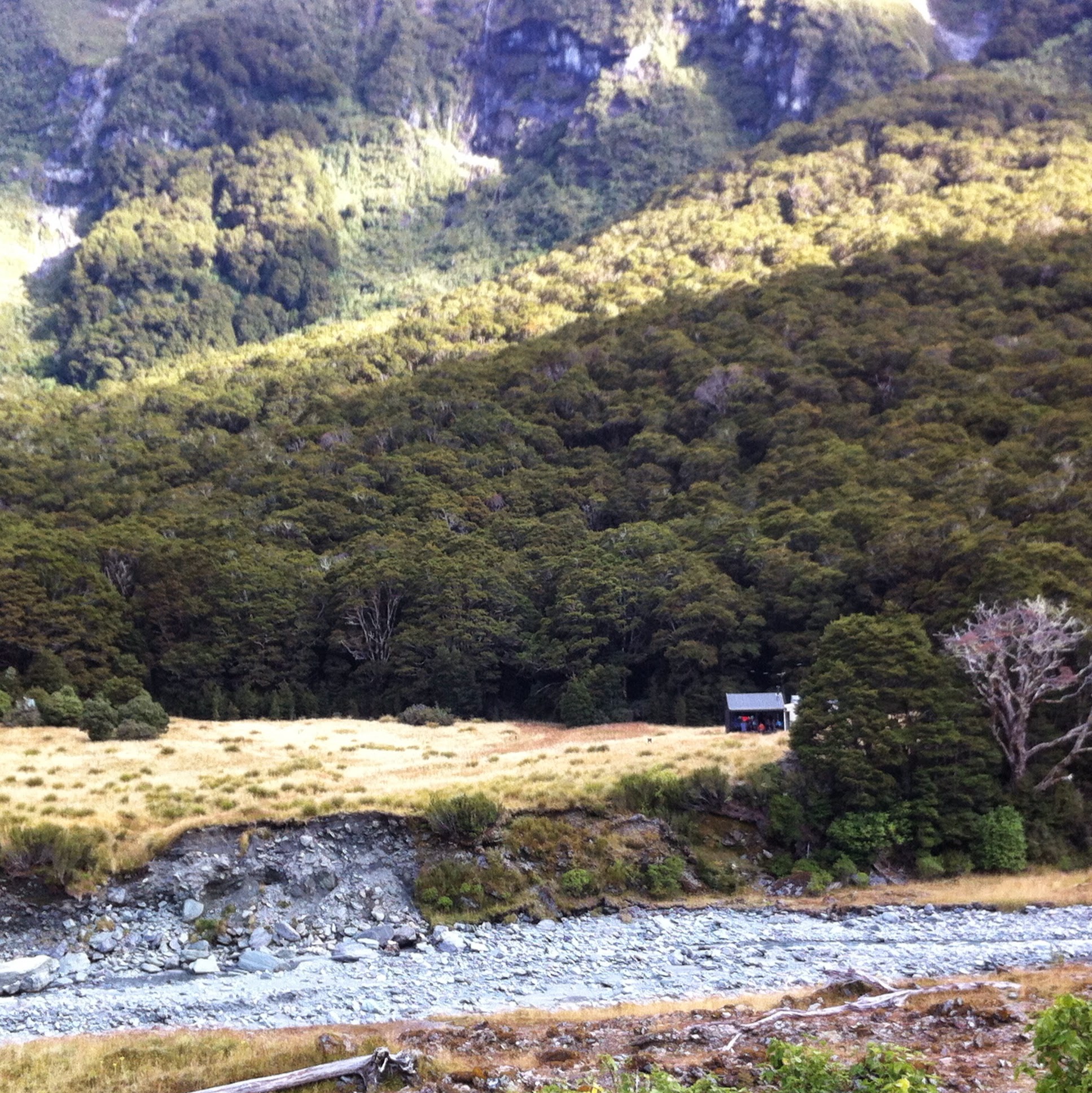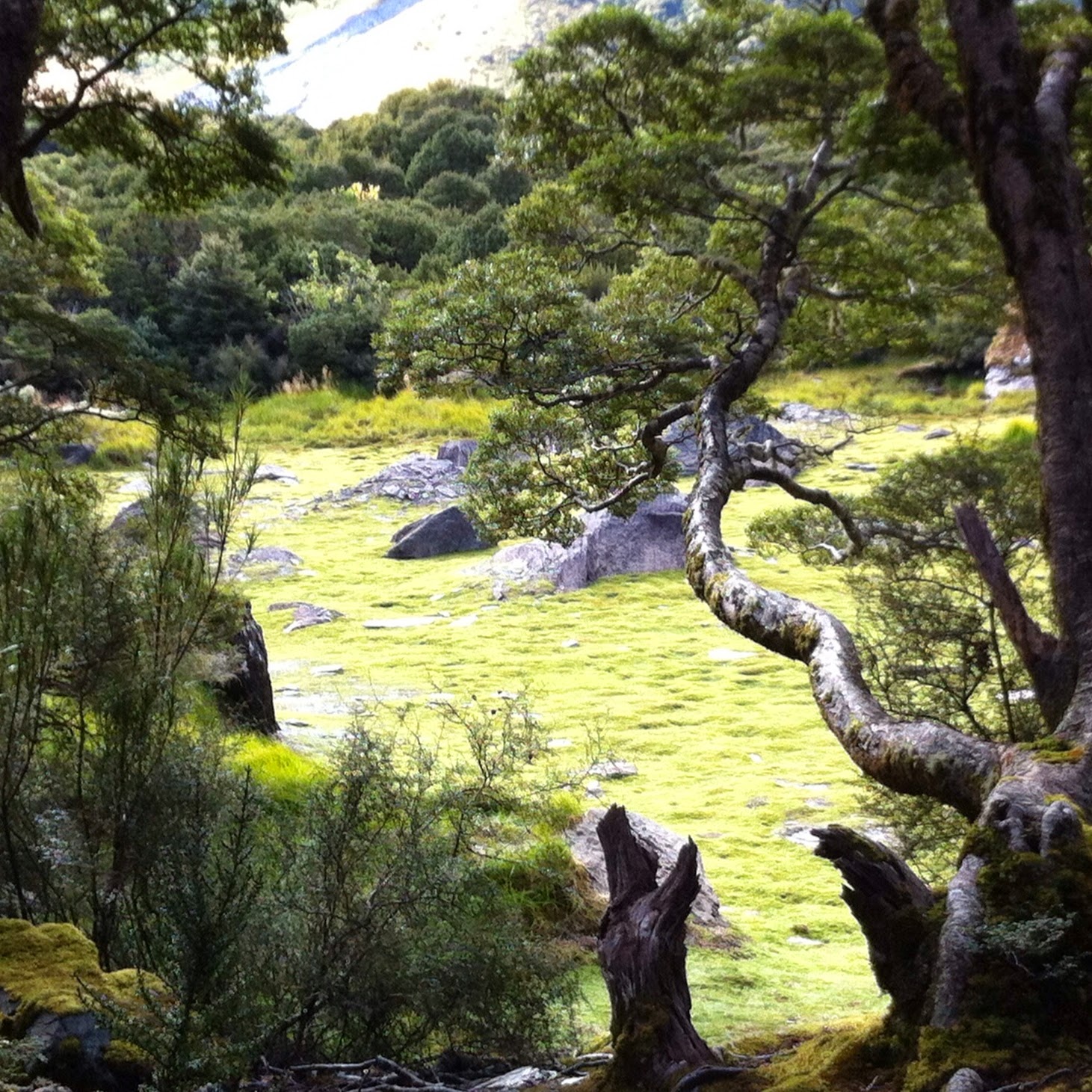 "Today will be one to remember," I thought, stepping silently onto the wet grass outside the dark hut. I shouldered my pack and inhaled clean pre-dawn alpine air. Far above me, Mounts Castor and Pollux flamed in the first light of morning sunshine, ethereal and unreachable.
My prayers to Huey the Weather God had been answered. Since crossing Gillespie Pass two days earlier, the weather had steadily improved. Reassuringly, a professional guide and two clients would be following behind me on their own transit up and over Waterfall Flat and Rabbit Pass. My fears had evaporated yesterday and a good night's rest last night after the near-sleepless one the night before had energised me.
The climb up to Waterfall Flat felt delightful. Sitting by one of the innumerable crystal clear streams spilling from the slopes above, I tucked into a hearty breakfast of oatmeal and coffee fortified with sweet condensed milk. An inquisitive and cheeky kea, the world's only alpine parrot and surely the most intelligent of all birds, fluttered over to play games.
However, this was neither the time nor place to linger. The pressure was on. Behind and below me, distant figures approached steadily. It was time to move.
The first short section steepened steadily until a rock wall barred further progress. "Christ! They can't be serious!" I thought. Handhold by handhold, foothold by foothold, I groped my way upwards, face pressed tightly against rock, earth and grass, hands and feet groping, the pack pulling backward in answer to gravity's inexorable demand. If I could have used my teeth as a climbing aid, I would have.
"Nibbling my way up to Rabbit Pass," I thought. "That's a different technique."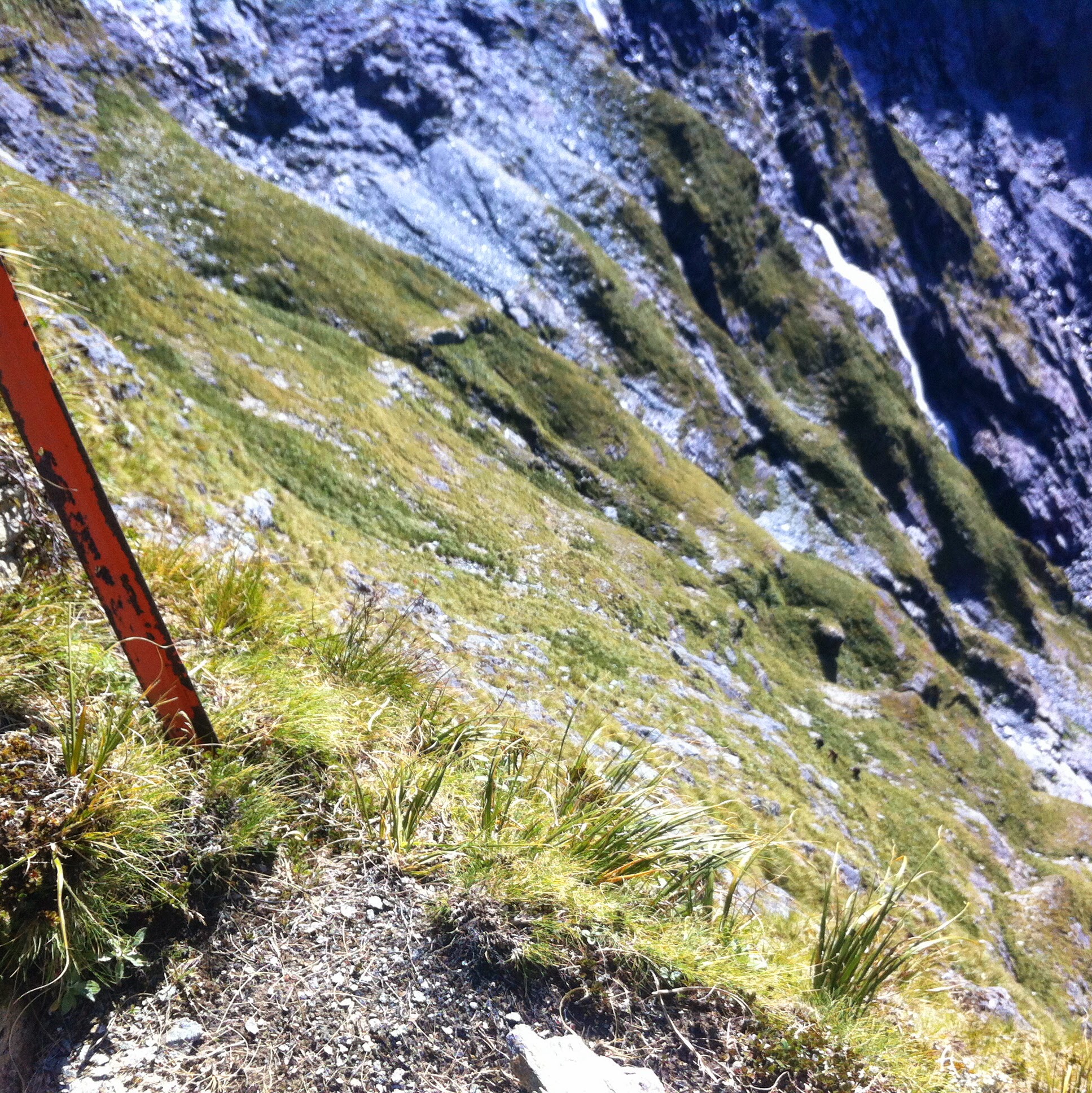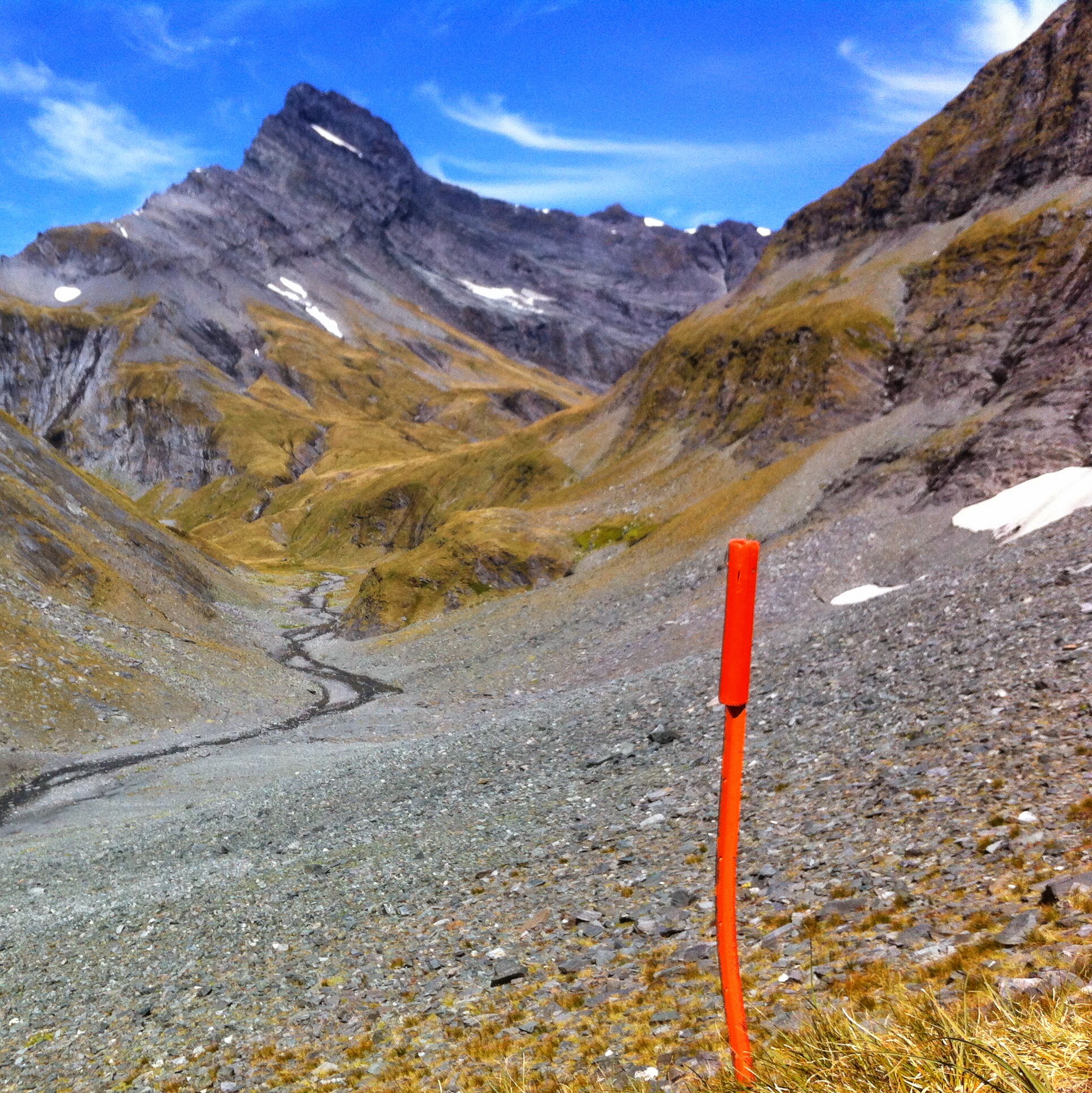 Perversely, the higher I climbed, the more confident I felt. Relaxed yet poised, concentrating intensely, I moved into a state of flow and heightened perception, a heady concoction of adrenaline, dopamine and other chemicals. When I reached the final orange marker and gazed in wonder along the upper reaches of the Wilkin River, the air shimmered and colours glowed.
"Wow! This is a natural high!"
I gazed back down the slope and made out the tiny figures of the guided party. And then came a welcome surprise as a fit 72 year-old stepped around a rock wall. I'd met John four days before when he gave me a short lift to Lake Hawea. A former deer-culler and master bushman, he possessed vast knowledge of NZ's backcountry. Although he'd long since traded in his rifle for a fearsome-looking camera, he still headed for the hills at every opportunity. We grinned, shook hands and waited for the guided party to join us.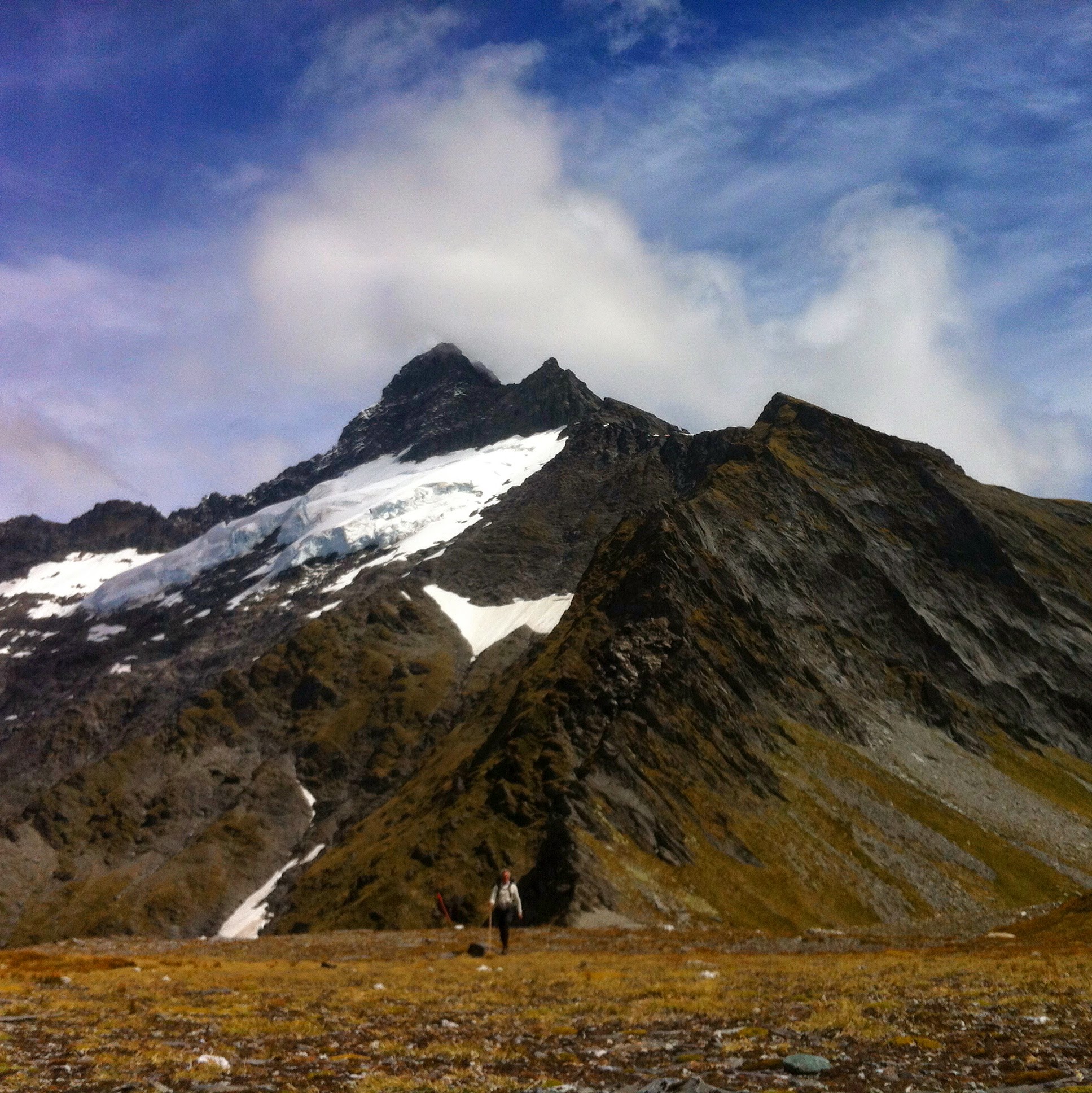 John and I teamed up. I felt glad for the company. Among his many virtues, John liked to walk in silence so we headed into the rising wind funnelled between the rock walls alone yet together. When we turned to climb the long ridge leading up to Rabbit Pass, 50 knot gusts pulled us toward the black water-worn gorge at our feet.
We reached the final obstacle at mid-afternoon. I gazed over the precipice with misgiving. The first twenty metres of damp rock-face and loose grit steepened until it dropped out of sight over a cliff. Forty metres below that, a belt of scree slid down to firmer ground. Feet scrabbling for purchase on loose rock, we slid down to the cliff-top. After sliding out of my pack straps, I reconnoitred. With a dry mouth, I realised just how exposed I was. Turning, heart knocking against my ribs, I pulled myself back with difficulty.
Above us, the guide's head appeared on the ridge-line and shouted brief directions into the void. " Go left!" John now took the lead while I put on my pack. "Who put a bloody route through here!" I muttered, looking between my knees for the next tenuous foothold while my fingers tightened on fragile handholds.
Ten minutes later, with Rabbit Pass behind us, we watched the clients safely lowered by rope. After waiting for the guide, we slid down the loose scree slopes and onto firm ground. As the adrenaline and elation wore off, the steep descent to the Matukituki River over grass tussocks and down into the boulder-strewn stream-bed left us with bruised and wet feet. John and I shook hands and parted as friends. He would camp near the guided party's bivouac and I would make a final push to Ruth Flat two hours' scramble downstream.
The haunting cries of waterfowl sounded across the meadows when I wearily stepped onto them from the river bed. I made a fly camp on a sheltered step of grass. The last of the sun illuminated the glaciated ramparts of the Tartarus Icefall and streaming waterfalls. It had been a day to remember and a long one. I had been walking and climbing for fourteen hours. I lit a small campfire and sipped hot chocolate, absorbing the stillness. The fire crackled and glowing sparks rose upward, miniature shooting stars against a spangled canopy.
Deep in Tiritiri O Te Moana, the Southern Alps, I rested in the heart of nature's therapy room.